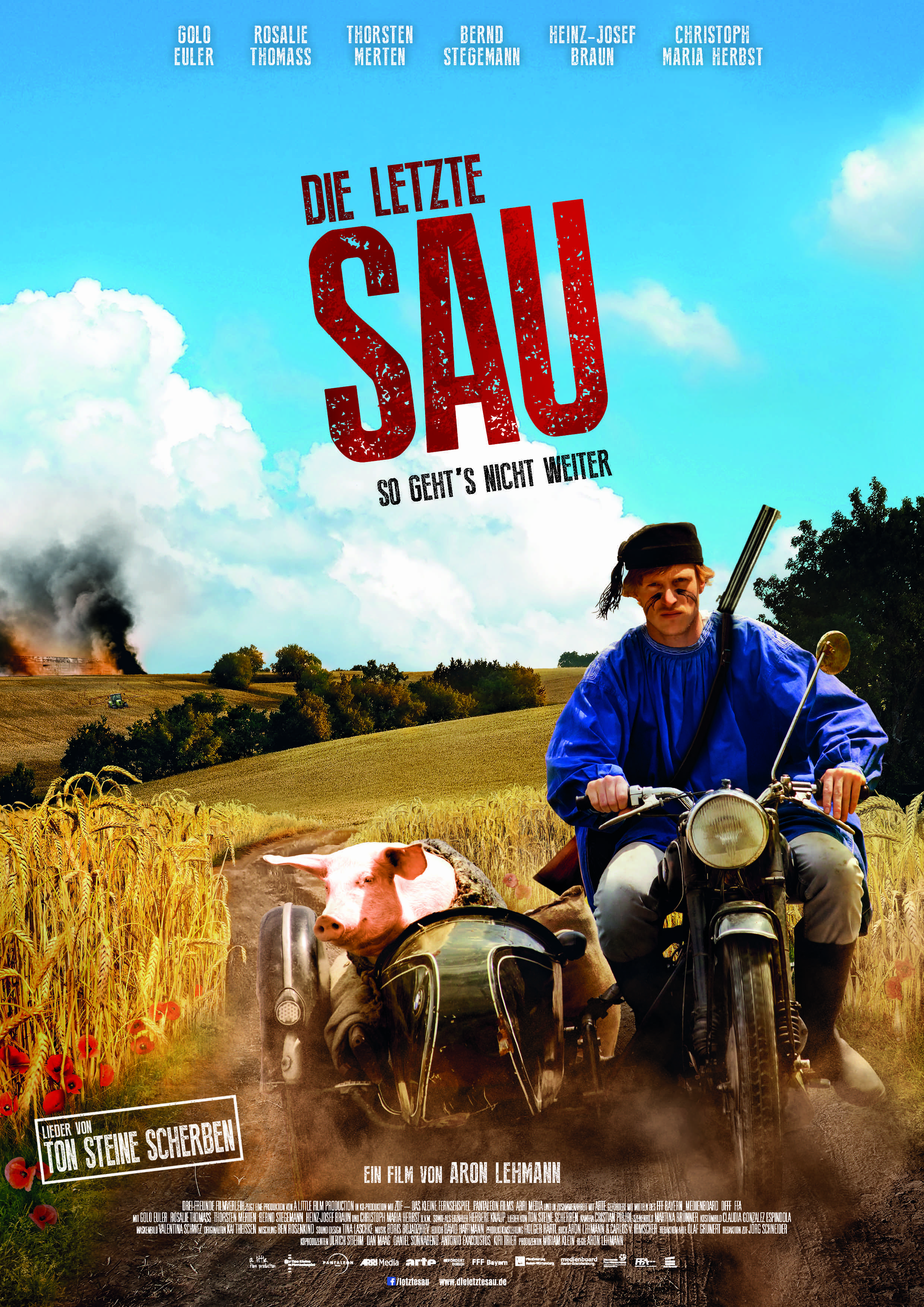 Buch: Aron Lehmann & Carlos V. Irmscher
Regie: Aron Lehmann
Verleih: Drei Freunde Filmverleih
Cast: Golo Euler, Rosalie Thomass, Thorsten Merten, Heinz-Josef Braun, Christoph M.Herbst, Eva Bay, Daniel Zillmann
Ein anarchisches Märchen und Road-Movie über Freiheit und Unabhängigkeit. Bauer Huber wehrt sich gegen die Macht der Agrarindustrie und Großunternehmen. Wie einst Spartakus zieht er durch das Land, befreit die Sklaven des Systems und führt sie zum Aufstand…
In Koproduktion mit dem ZDF – Das Kleine Fernsehspiel, Pantaleon Films, Arri Media und in Zusammenarbeit mit arte und Koproduzent Ulrich Stiehm.
Gefördert vomFFF Bayern, Medienboard Berlin-Brandenburg und dem DFFF.
Kinostart: 29.09.2916

Buch: Paul Salisbury
Cast: Aylin Tezel
In Co-Development mit SevenPictures.
Drehbuchentwicklung gefördert vom Medienboard Berlin-Brandenburg.
Die erfolglose Personenschützerin Toni bekommt die Chance, der neue Bodyguard von Deutschlands größtem Kinostar Nick Wagner zu werden. Der Haken: Dafür muss sie für die Presse auch Nicks neue Flamme mimen. Anfangs wie Katz und Maus, entdecken beide bald echte Gefühle füreinander…

Buch: Oskar Tellhed
Ben, der deutsche "Gaylord Focker" ist der netteste Typ im Büro und steht kurz davor, die Liebe seines Lebens zu heiraten. Wenn nur dieses kleine Problem nicht wäre: Vorher muss er sich hochkant feuern lassen.
Projektentwicklung gefördert vom Medienboard Berlin-Brandenburg.
Status: In Finanzierung
Buch: Holger Ernst
Regie: Holger Ernst
Cast: Tom Payne ("Der Medicus"), Melissa Leo (Oscar 2010 für "The Fighter"), Ronald Zehrfeld ("Barbara")
Executive Producer: Wim Wenders
A modern Thriller. A clash of worlds. A trip never to forget.
Northwest Africa. The Western Sahara. A lost stretch of land which has been occupied by Morocco since the 70's. The Moroccan army controls the land and fights the independence movement of the locals, which they claim are terrorists with links to Al Qaeda. The fragile political situation made this part of the world a hotbed for political unrest, corruption and safe harbor for all kinds of illegal trades and trafficking. It has become a main route for Colombian cocaine. The new Wild West.
Michael, a young charismatic American travels to the Western Sahara to work for his father who is the head of an international company that cooperates with the Moroccan government and mines in the occupied territory of the Western Sahara for rare earths. Michaels trip confronts him with an utterly unknown world and with the realities of modern day colonialism in which the quest for profit determines business practices.
While yearning for his father's respect, Michael falls in love with a local woman who is about to get married. Michael gets caught in a situation in which he needs to prove himself and triggers a spiral of events that brings everything to the brink of collapse – connecting him to Abdel, a young Saharawian, who is caught in the realities of his economic situation. In hope for a better future Abdel starts to work for a local drug lord. A world which makes him do things and become a man he never wanted to be.
D.O.P.E. is a metaphor and tale of our times. Love, greed, globalization, corruption, dreams. A story of greed, love, hope. The longing for a future. A tale of becoming a man.
Status: In Entwicklung

CHERRYMAN JAGT MISTER WHITE
Buch: Aron Lehmann & Stephan Irmscher
Regie: Aron Lehmann
Finstere Zeiten herrschen in unserem von Gott und Staat verlassenen Dorf. Die Mütter, Väter,  Kinder verstecken sich in den Häusern, während durch die Straßen der braune Mob marschiert. Wer wird uns helfen, wimmern sie und blicken zu den Dächern. Wo bist du, Cherryman? Rette uns!
Deutschlands erster Superhelden-Film.
Adaption des gleichnamigen Romans von Jakob Arjouni.
Drehbuchentwicklung gefördert vom BKM.
Status: In Entwicklung